ABMDR's festive recruitment at the Tehran Pan-Armenian Games
On September 16, 2017, the Armenian Bone Marrow Donor Registry (ABMDR) held a donor recruitment during the annual Pan-Armenian (Hamahaykakan) Games at the famed Ararat Sports Complex in Tehran. The jubilant recruitment event, which carried the theme "Thank you, donors," was organized by ABMDR's Tehran team in celebration of World Marrow Donor Day.
In the course of the event, 66 enthusiastic supporters joined the ranks of ABMDR as potential bone marrow donors.
Also within the framework of events marking World Marrow Donor Day, ABMDR will hold a major recruitment drive at the Vazgen Sargsyan Military Institute in Yerevan on September 25. In what has become a wonderful tradition of solidarity and support, the Vazgen Sargsyan Military Institute has hosted ABMDR recruitments for the past several years, facilitating the recruitment of hundreds of military students, officers, and Institute lecturers and staff.
Through its recruitments in Tehran, Yerevan, and elsewhere throughout the world, ABMDR seeks to raise public awareness of its life-saving mission, foster a culture of compassion and benevolence, and continually expand its global registry of bone marrow donors.
Today, there are more than 28 million bone marrow donors across the world. Over 29,000 of them are registered with ABMDR.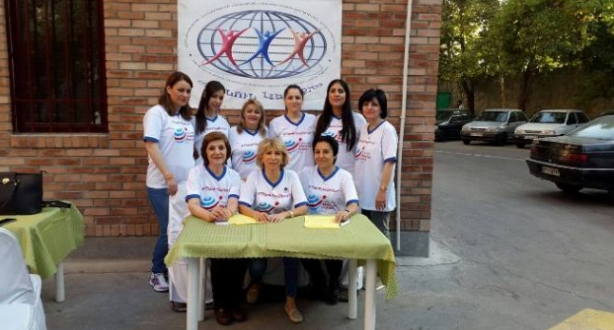 About the Armenian Bone Marrow Donor Registry: Established in 1999, ABMDR, a nonprofit organization, helps Armenians and non-Armenians worldwide survive life-threatening blood-related illnesses by recruiting and matching donors to those requiring bone marrow stem cell transplants. To date, the registry has recruited over 29,000 donors in 30 countries across four continents, identified over 4,190 patients, and facilitated 30 bone marrow transplants. For more information, call (323) 663-3609 or visit abmdr.am.