Arch. Derderian offers prayers for
ABMDR patients at St. Leon Cathedral service
Los Angeles, April 6, 2016 — On Sunday, April 3, during Mass at St. Leon Cathedral in Burbank, Archbishop Hovnan Derderian, Primate of the Western Diocese, offered prayers for patients of the Armenian Bone Marrow Donor Registry (ABMDR).
For the past several years, the Western Diocese has marked a special Prayer Day in honor of ABMDR patients. The Prayer Day is observed at St. Leon Cathedral as well as Armenian churches across Southern California.
During his sermon on April 3, Arch. Derderian prayed for the recovery and healing of ABMDR patients, and commended the selfless work of the hundreds of volunteers who stand behind the life-saving mission of the pan-Armenian organization. Arch. Derderian also urged congregants to generously support the work of ABMDR by making donations, becoming volunteers, and joining the registry's ranks as potential bone marrow stem cell donors.
"For nearly two decades, the Armenian Bone Marrow Donor Registry has been most instrumental in the life of the community in raising awareness to save lives," Arch. Derderian said. "The mission is now spreading throughout many countries, amongst which a pool of donors come from Armenia. There is no doubt that under the able leadership of Dr. Frieda Jordan, together with the members of the Board, the mindset of our community has been influenced by the noble mission of the Armenian Bone Marrow Donor Registry as we share and extend God's love to all people. Much can be said about ABMDR. May God continue to bless your most rewarding mission of saving lives."
After the church service, scores of parishioners had the opportunity to become more familiar with the activities of ABMDR as a team of Board members and volunteers answered questions and handed out information about becoming donors.
"With his ongoing and steadfast support of our mission, Arch. Derderian inspires thousands to follow in his footsteps and make a difference in the lives of those struck by life-threatening blood-related illnesses," said ABMDR President Dr. Frieda Jordan. "We are truly blessed to have visionary and dedicated leaders and community activists such as Primate Derderian."
About the Armenian Bone Marrow Donor Registry: Established in 1999, ABMDR, a nonprofit organization, helps Armenians and non-Armenians worldwide survive life-threatening blood-related illnesses by recruiting and matching donors to those requiring bone marrow stem cell transplants. To date, the registry has recruited over 28,000 donors in 28 countries across four continents, identified over 3,500 patients, and facilitated 26 bone marrow transplants. For more information, call (323) 663-3609 or visit abmdr.am.
Archbishop Hovnan Derderian flanked by ABMDR Board members and volunteers, at the Western Diocese.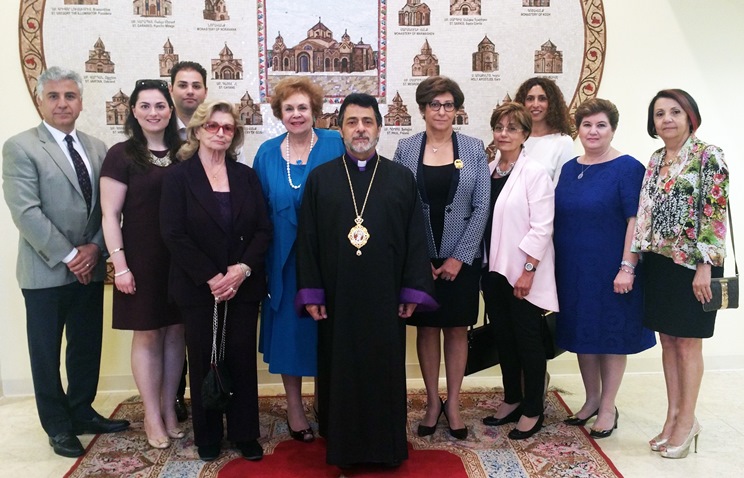 Photo courtesy of the Armenian Bone Marrow Donor Registry.