Armenian Bone Marrow Donor Registry
3111 Los Feliz Avenue, #206, Los Angeles, CA 90039
Contact person: Dr. Frieda Jordan
Phone: (323) 663-3609
Email: info@abmdr.net 
For Immediate Release
Outstanding lineup of comedians to be featured at ABMDR Comedy Night on November 8  
Los Angeles, October 22, 2015 – Laughter for Life, the 13th annual Comedy Night of the Armenian Bone Marrow Donor Registry (ABMDR), will take place on the night of Sunday, November 8, at the world-famous Comedy Store in Los Angeles. Proceeds from the event will benefit the life-saving mission of ABMDR.
The lineup this year includes some of America's most acclaimed young comedians. They include Vincent Oshana of HBO's "Def Comedy Jam" and Showtime's "The Underground;" Aron Kader, a founding member of Comedy Central's "Axis of Evil Comedy Tour;" Ali Wong, who starred in the ABC series "Black Box;" Sarah Tiana, whose appeared on the E! channel's "Chelsea Lately" and Comedy Central's "The Burn;" and Bryan Callen, whose credits include "Sex and the City," CBS' "How I Met your Mother," and ABC's "The Goldbergs."
In addition to the standup performances, Laughter for Life will feature burlesque dances. The show, starting at 8 pm, will be preceded by a cocktail hour at 7 pm, when guests will also enjoy hors d'oeuvres.
Laughter for Life is organized by the ABMDR Comedy Night Committee, which includes longtime supporters Lara Yeretsian, Esq., and renowned comedian Sam Tripoli. "Laughter for Life is one of ABMDR's most popular annual events, and we go to great lengths to surpass expectations," Yeretsian said. "Our lineup of comedians this year is truly magnificent. This will be an unforgettable night, offering hilarious, cutting-edge standup comedy for a wonderful cause."
For tickets, visit itsmyseat.com/ABMDR.
About the Armenian Bone Marrow Donor Registry: Established in 1999, ABMDR, a nonprofit organization, helps Armenians and non-Armenians worldwide survive life-threatening blood-related illnesses by recruiting and matching donors to those requiring bone marrow stem cell transplants. To date, the registry has recruited over 27,000 donors in 24 countries across four continents, identified 3,000 patients, and facilitated 20 bone marrow transplants.
For more information, call (323) 663-3609 or visit abmdr.am.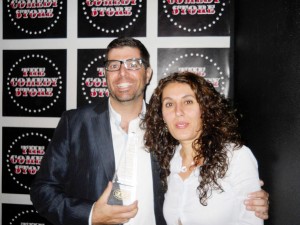 Sam Tripoli and Lara Yeretsian of the ABMDR Comedy Night Committee at the Comedy Store.
Photo courtesy of the Armenian Bone Marrow Donor Registry.