International award
Glendale, California, April 2, 2011 – Dr. Frieda Jordan, president of the Armenian Bone Marrow Donor Registry (ABMDR), was honored by Soroptimist International of the Verdugos as the recipient of its top annual award.
Soroptimist International' s coveted Ruby Award was bestowed on Dr. Jordan during the Annual Program Awards and Live Your Dream Campaign event, held on March 23 in Glendale, California.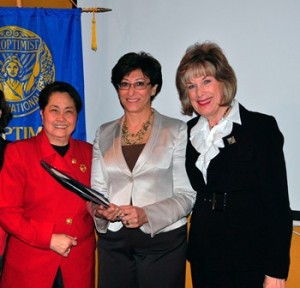 The awards ceremony was attended by a large number of supporters, among them elected officials or their representatives. Guests included Glendale mayor Ara Najarian, Field Representative Christine Aghakhani from the office of Assemblymember Mike Gatto (43rd District, California), Field Representative Heather O' Connor from the office of Los Angeles City Councilmember Paul Krekorian, and Los Angeles Commissioner on Disabilities Theresa de Vera.
Soroptimist International' s Ruby Award honors women who, through their professional or personal efforts, are making an extraordinary difference in the lives of women or girls. Dr. Jordan received the award in recognition of her instrumental role in the establishment of the ABMDR and its life-saving mission throughout the world.
" I am so very grateful for this wonderful honor," Dr. Jordan said. " To me, recognition of this order means that the ongoing mission of the Armenian Bone Marrow Donor Registry is receiving mainstream exposure, and for this my colleagues and I couldn' t be happier."
Soroptimist International is a volunteer organization for business and professional women who work to improve the lives of women and girls, in local communities and throughout the world.