Contact person: Dr. Frieda Jordan
Phone: (323) 663-3609
Email: info@abmdr.net
Hrach Lukassian climbs Everest Base Camp,
carrying ABMDR flag
Los Angeles, October 29, 2015 – On October 19, Hrach Lukassian of Los Angeles fulfilled a lifelong dream when he ascended the Base Camp of Mount Everest, in Nepal. Lukassian's excursion also included treks to the Kala Patthar slope (the original base camp of Mount Everest) and Khumbu Glacier, the world's highest glacier, which has an altitude of over 5,320 meters.
Lukassian reached Khumbu Glacier after an extremely arduous, two-week climb in treacherous weather and across some of the world's most rugged and dangerous terrains. An experienced mountaineer whose previous climbs include mounts Ararat, Kilimanjaro (Tanzania), and Damavand (Iran), Lukassian said no scale could compare with the difficulties of ascending the Mount Everest Base Camp and the nearby slopes.
"After overcoming those indescribable hardships and actually making it to the breathtakingly beautiful, sacred grounds of the Kala Patthar and Khumbu Glacier, you feel mesmerized and grateful, and you know you're experiencing a once-in-a-lifetime moment," Lukassian said.
Lukassian also took the flag of the Armenian Bone Marrow Donor Registry (ABMDR) to Mount Everest. "It was a distinct privilege to carry the flag of our beloved organization to the world's highest mountain," Lukassian said. "I think there's great symbolism in the fact that an Armenian organization that helps save lives throughout the world was seen from the very top of the world, if only briefly."
Following his Mount Everest journey, Lukassian visited Armenia before returning to Los Angeles. In Yerevan, he visited the ABMDR Stem Cell Harvesting Center, where ABMDR executive director Dr. Sevak Avagyan, ABMDR medical director Dr. Mihran Nazaretyan, as well as members of the lab staff expressed their deep appreciation for Lukassian's gesture and placed the signed historic flag he had brought with him at the center.
"In 2013, a team of Armenian mountaineers, which included Hrach Lukassian, took the ABMDR flag to the summit of Mount Ararat, in a gesture of pan-national support for our registry's life-saving mission," Dr. Avagyan said. "And now Mr. Lukassian, one of our longtime supporters, has carried our flag to the base of Mount Everest. We feel deeply honored!"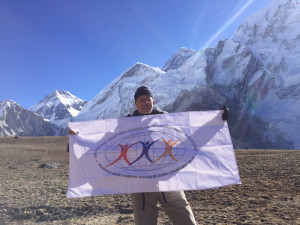 Hrach Lukassian holding the ABMDR flag on Khumbu Glacier, Nepal. Mount Everest, the highest peak, is seen in the background.
Hrach Lukassian at Kala Patthar, above the Everest Base Camp and Khumbu Glacier, pointing at Everest, the highest peak.
Hrach Lukassian (second from far right) with ABMDR leaders and lab-staff members, holding the signed ABMDR flag.
 Photos courtesy of the Armenian Bone Marrow Donor Registry.