Hundreds turn out for ABMDR walkathon in Glendale
Participants include scores of youth teams, elected officials 
Los Angeles, October 7, 2016 – Close to 300 people took part in Walk of Life, the 11th annual walkathon of the Armenian Bone Marrow Donor Registry (ABMDR), in strong support of the organization's life-saving mission. The event was held on October 1 in Glendale, in a festive community atmosphere that featured music and food. Participants included elected officials and community leaders, teams from schools, universities, and community organizations, and the "Walk Angels," a team of cancer survivors.
During the opening ceremony, in the plaza of the Glendale City building, welcome remarks were delivered by Walkathon Committee co-chairs Dr. Sharlene Gozalians and Marine Khachatryan. The invocation was performed by Rev. Pakrad Berjekian of the Western Diocese, representing Archbishop Hovnan Derderian; and Rev. Vazken Atmajian of the Western Prelacy, representing Archbishop Moushegh Mardirossian.
Next Marine Khachatryan acknowledged attending dignitaries and the walkathon's honorary chairs, and invited them to the stage. They included California State Senator Anthony Portantino; Glendale Mayor Paule Devine; Glendale Council members Vartan Gharpetian, Zareh Sinanian, Laura Friedman, and Ara Najarian; Mary Hovakimian, representing US Congressman Adam Schiff; and KTTV anchorwoman Araksya Karapetyan. On her part, Dr. Sharlene Gozalians thanked the event's major sponsor, Reveal 23 (Foundation Laboratory), as well as other top sponsors including Mission Wine and Spirits; Tri-Tech Restoration; Yeretsian Law; Le Papillon; Dignity Health Glendale Memorial Hospital and Health Center; and 4over, Inc.
As she addressed the attendees, Taleen Vartanian of the Foundation Laboratory said, "Dr. Frieda Jordan and her colleagues, together with numerous volunteers, have dedicated themselves to creating and growing the Armenian Bone Marrow Donor Registry, which has been a beacon of hope and reaches Armenians across the globe. All of us at the Foundation Laboratory are proud and honored to be a part of such an organization."
Remarks were also delivered by two young cancer survivors, Cynthia and Bliss; as well as Roza Diremsizyan, who was participating in the walkathon as part of Team Alex, in support of her eight-year-old son, Alex, a leukemia survivor. The speakers shared their stories of devastation but also survival and healing, emphasizing the importance of emotional support and a positive attitude.
"My perseverance with regard to our work is inspired by patients like little Alex Diremsizyan," said ABMDR President Dr. Frieda Jordan in her address. "My colleagues and I can't stop doing what we do for as long as there are patients who need our support. Today, as you participate in this event, you are being of immeasurable help to our patients and their families. Thanks to you, they don't feel alone. They know that you're standing by their side, that you care about them. Thank you all for empowering our organization to reach out to patients throughout the world — all those whose last hope rests in finding a matched donor who will help save their lives. With every step that you take today, remember those who need your help, and those in whose honor you'll be walking."
Prior to the commencement of the walk, participants warmed up to upbeat music, led by a trainer from Total Woman, which has volunteered its services for Walk of Life for the past seven years. Subsequently little Alex was given the honor of cutting the ribbon.
The 5-K walk-run looped through central Glendale and included a half-way stop at the Armenian Consulate, where walkers were greeted and cheered by Consulate officials.
The walk concluded at the plaza of the Glendale City building. As the throngs of participants once again converged on the plaza, the festivities continued into the day. The event also gave participants the opportunity to join the ranks of ABMDR as potential bone marrow donors, as many volunteers were on hand to answer questions and welcome new recruits.
About the Armenian Bone Marrow Donor Registry: Established in 1999, ABMDR, a nonprofit organization, helps Armenians and non-Armenians worldwide survive life-threatening blood-related illnesses by recruiting and matching donors to those requiring bone marrow stem cell transplants. To date, the registry has recruited over 28,000 donors in 42 countries across four continents, identified over 4,200 patients, and facilitated 27 bone marrow transplants. For more information, call (323) 663-3609 or visit abmdr.am.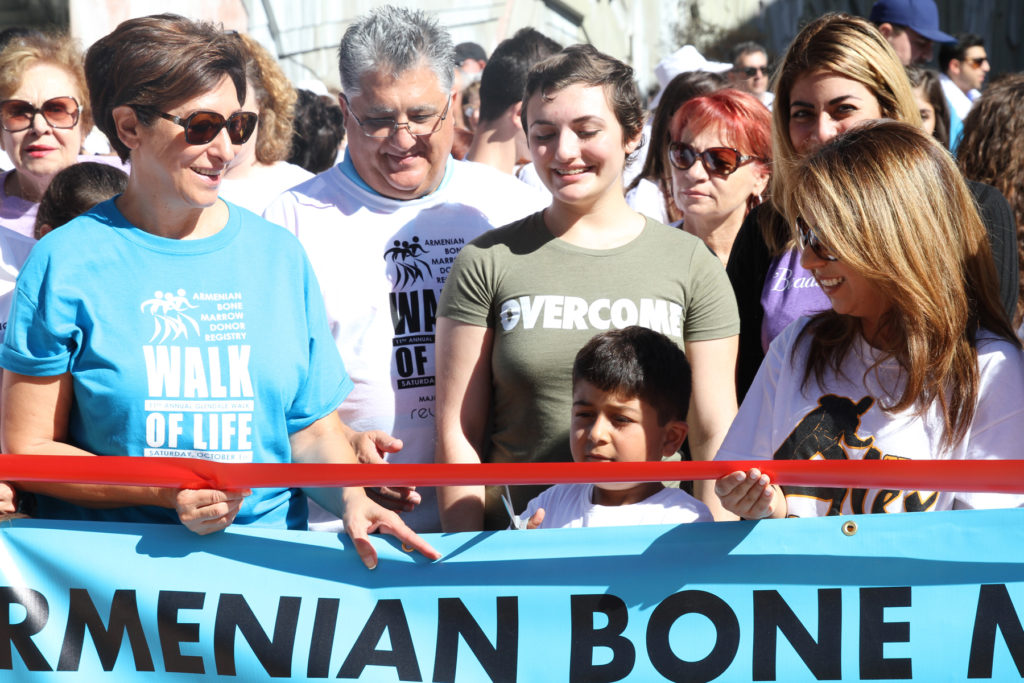 Alex, an eight-year-old leukemia survivor, cuts the ribbon as Dr. Frieda Jordan (foreground, left), California State Senator Anthony Portantino, and others look on.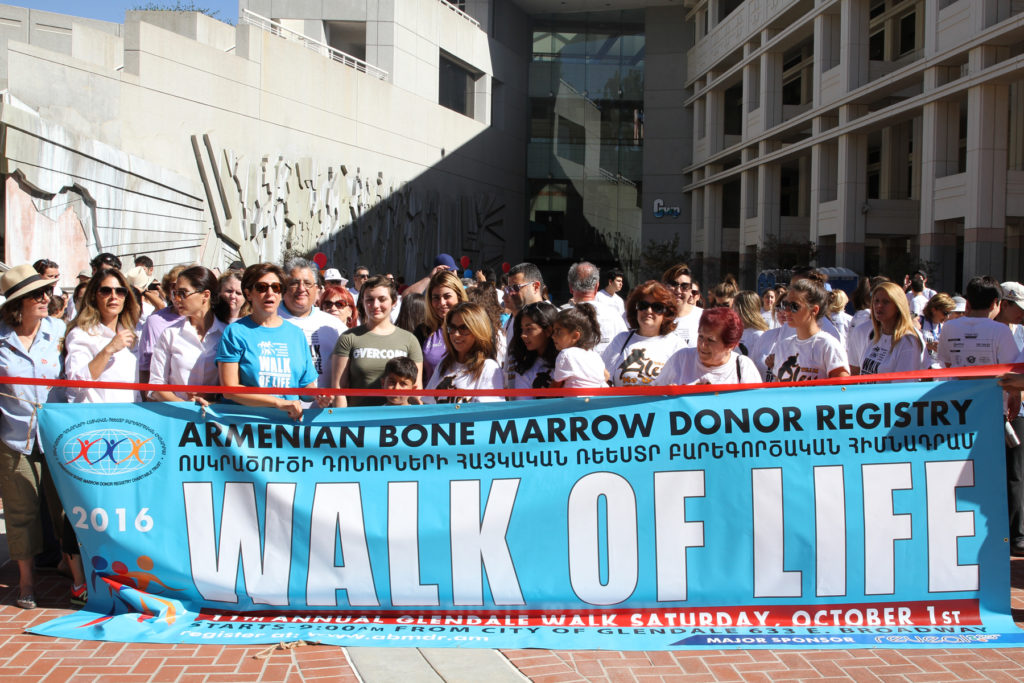 A scene from the ribbon-cutting ceremony.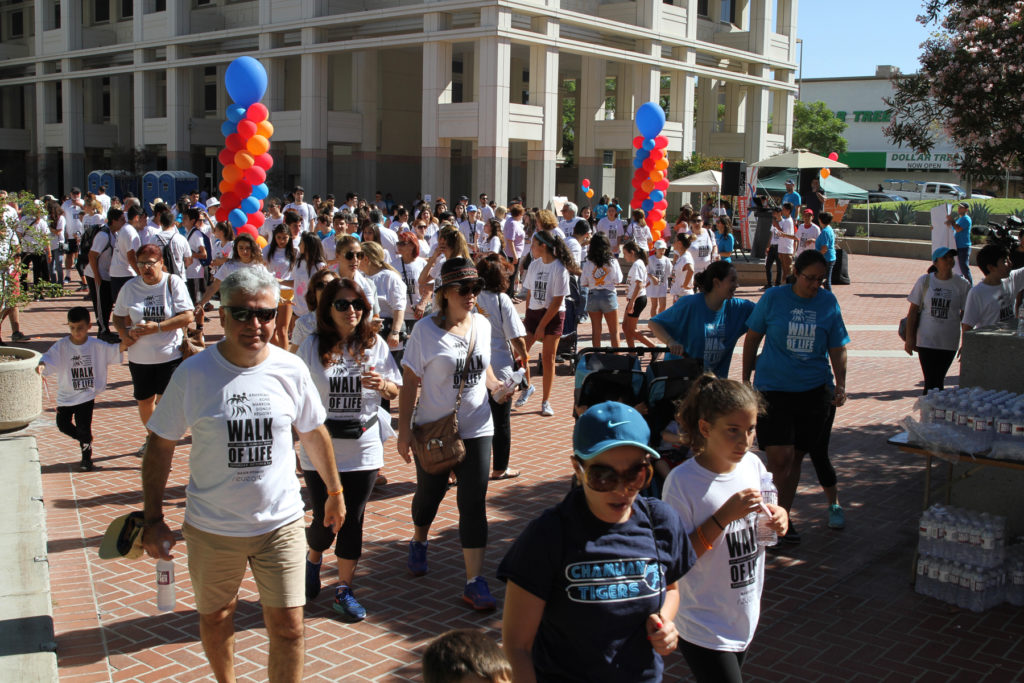 A scene from the walkathon.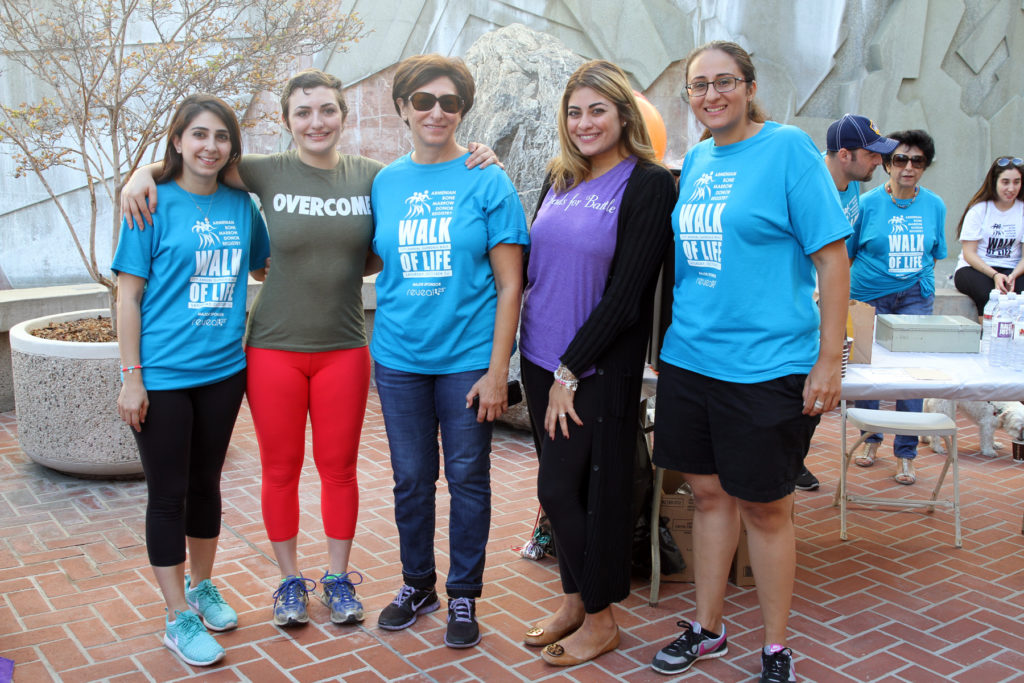 Dr. Frieda Jordan (third from left) flanked by, from far left, Walkathon Committee Co-chair Marine Khachatryan, cancer survivors Bliss and Cynthia, and Committee Co-chair Dr. Sharlene Gozalians.
Photos by Aleko Boghoskhanian.