Led by Arch. Derderian, Western Diocese Churches Offer Prayers for ABMDR Patients And Families
Primate reaffirms support of ABMDR's life-saving mission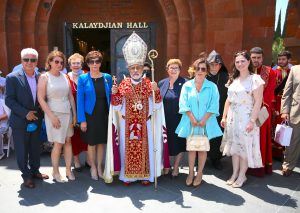 Los Angeles, August 23, 2021 — On Sunday, August 15, as Armenian congregations celebrated the Feast of the Assumption of the Holy Virgin Mary, along with the Blessing of the Grapes (khaghoghorhnek), prayers for patients of the Armenian Bone Marrow Donor Registry (ABMDR) and their families were offered at all Western Diocese Churches, at the request of Archbishop Hovnan Derderian, Primate.
In his sermon during Mass at Saint Leon Cathedral, in Burbank, Archbishop Derderian prayed for the speedy recovery of ABMDR patients suffering from life-threatening illnesses, as well as forbearance and strength for their families. Western Diocese churches offer prayers for ABMDR patients and families on a designated Sunday every year, in keeping with a longstanding tradition of providing them with spiritual support.
As he spoke of the pan-Armenian organization's work, Archbishop Derderian expressed high praise for the dedication of ABMDR's volunteers, supporters, and registered bone marrow donors. The Primate went on to affirm the Western Diocese's strong advocacy of ABMDR's outreach efforts throughout the diaspora and the homeland, and urged congregants to support the organization by joining its ranks as potential bone marrow donors, for a chance to save someone's life.
Congregants attending the church service included members of the ABMDR Board and volunteers, including Dr. Frieda Jordan, president of the organization. "We are all deeply moved by Archbishop Hovnan Derderian's words of praise and support," Dr. Jordan said afterwards. "With his exemplary assistance in raising public awareness of our mission, as well as his vital role in helping secure the success of our outreach and recruitment efforts, Primate Derderian is a true inspiration to our community."
Dr. Jordan stated that although ABMDR was significantly impacted by the COVID-19 pandemic, it has continued to conduct donor-search requests and tissue-typing for its patients, and continued to provide them with support and counseling. In addition, Dr. Jordan stated, ABMDR has facilitated its 34th, 35th, and 36th stem cell-harvesting procedures during the pandemic, and carried out a far-reaching research project with the goal of understanding how COVID-19 affects ethnic Armenians. ABMDR has already submitted the findings of this research for publication, in an effort to contribute to the global scientific community's understanding of the pandemic.
Dr. Jordan added that ABMDR has planned a number of forthcoming outreach events, including three donor recruitments that will be held in the Los Angeles area in August and September. More information about these and other ABMDR activities and projects can be found on the organization's Facebook page.
About the Armenian Bone Marrow Donor Registry: Established in 1999, ABMDR, a nonprofit organization, helps Armenians and non-Armenians worldwide survive life-threatening blood-related illnesses by recruiting and matching donors to those requiring bone marrow stem cell transplants. To date, the registry has recruited over 32,000 donors in 44 countries across four continents, identified over 9,000 patients, and facilitated 36 bone marrow transplants. For more information, call (323) 663-3609 or visit abmdr.am.