Prelate Torkom Donoyan Pledges Continued Support of ABMDR's Life-Saving Mission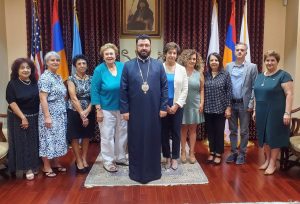 On September 12, Western Prelacy churches will offer prayers for ABMDR patients and families
Los Angeles, August 2, 2021 — Bishop Torkom Donoyan, Prelate, pledged the Western Prelacy's continued support of the life-saving mission of the Armenian Bone Marrow Donor Registry (ABMDR).
Bishop Donoyan expressed his support during a meeting with a delegation of ABMDR Board members on July 29. The meeting, the first such event since the start of the COVID-19 lockdown, took place at the Western Prelacy, in La Crescenta, California, and was attended by ABMDR representatives including the pan-national organization's president, Dr. Frieda Jordan.
Dr. Jordan and her colleagues congratulated Bishop Donoyan for being elected as the new Prelate of the Western Prelacy in October of last year, and presented to him an overview of ABMDR activities. On his part, Bishop Donoyan expressed his admiration for the work of ABMDR, and reaffirmed the Prelacy's support of the organization's outreach and recruitment efforts.
Also during the meeting, Bishop Donoyan informed the ABMDR delegation that, at his request and as a beloved tradition, prayers for ABMDR patients and families will be offered at all Prelacy churches on September 12, on the occasion of the Feast of the Exaltation of the Holy Cross (Ton Veratsman Surb Khachi). Bishop Donoyan will celebrate the Divine Liturgy and speak about ABMDR's activities during his sermon that day, at the Holy Cross Armenian Apostolic Cathedral, in Montebello. Following the church service, ABMDR representatives will be on hand to answer questions by congregants and provide information on how to join ABMDR as potential bone marrow donors.
"We are delighted to have shared an overview of our projects with Bishop Donoyan, and we are deeply grateful to him for his staunch support of our mission," Dr. Jordan said. "My colleagues and I look forward to working closely with Bishop Donoyan to help ensure the success of our community-outreach and fundraising efforts."
ABMDR's upcoming events include the Match for Life Gala, which will take place in Los Angeles on August 22; and the Walk of Life walkathons, which will be held on September 25 in Glendale, California, and Watertown, Massachusetts.
Although severely impacted by the COVID-19 pandemic, ABMDR has continued to perform donor-search requests and tissue-typing for its patients during the lockdown. The organization has also provided its patients with support and counseling remotely. In addition, ABMDR has facilitated its 36th stem cell-harvesting procedure this year, and implemented a critically-important research project with the goal of understanding how COVID-19 affects the health of ethnic Armenians. The findings of this research were presented at the joint conference of the European Federation for Immunogenetics and the British Society for Histocompatibility, held in April of this year.
About the Armenian Bone Marrow Donor Registry: Established in 1999, ABMDR, a nonprofit organization, helps Armenians and non-Armenians worldwide survive life-threatening blood-related illnesses by recruiting and matching donors to those requiring bone marrow stem cell transplants. To date, the registry has recruited over 32,000 donors in 44 countries across four continents, identified over 9,000 patients, and facilitated 36 bone marrow transplants. For more information, call (323) 663-3609 or visit abmdr.am.