Los Angeles, August 5, 2011 – Serj Tankian, lead singer and songwriter of the acclaimed rock band System of a Down, has released a public-service video announcement in support of the Armenian Bone Marrow Donor Registry (ABMDR).
The video, which includes a sequence of shots showing ABMDR's life-saving work, features Tankian making a personal appeal to join the ranks of the registry.
"Thirty seconds: that's how long it'll take you to watch this announcement," his message says. "What if I told you that in just 30 seconds you can help someone just like yourself to live again; to love; to play; to laugh?
"By joining the Armenian Bone Marrow Donor Registry, you're taking a huge step toward saving an Armenian life. Once you're registered, you'll be part of a vast network of donors who have already saved lives all over the world. But we still need your help. Only an Armenian donor can save a fellow Armenian, and it only takes 30 seconds."
Commenting on the release of the video, Dr. Frieda Jordan, president of ABMDR, praised Tankian for his dedication to humanitarian causes and being "a wonderful role model for Armenian youths."
"By delivering such a great message in his unique and compelling style, Serj has once again demonstrated his strong commitment to encouraging Armenian youth activism," Dr. Jordan said.
Click here to watch the full video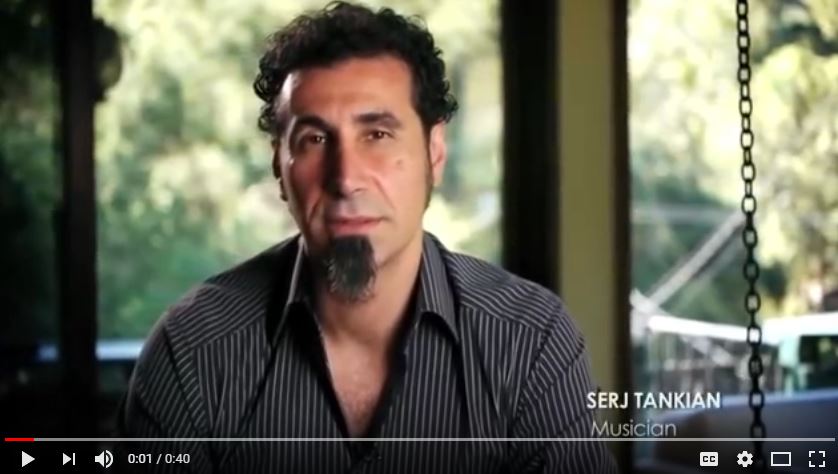 About the Armenian Bone Marrow Donor Registry: Established in 1999, ABMDR, a nonprofit organization, helps Armenians worldwide survive life-threatening blood-related illnesses by recruiting and matching donors to those requiring bone marrow stem cell transplants. To date the registry has recruited over 20,000 donors in 13 countries across three continents, identified 2,023 patients, found 1,700 potential matches, and facilitated 13 bone marrow transplants.