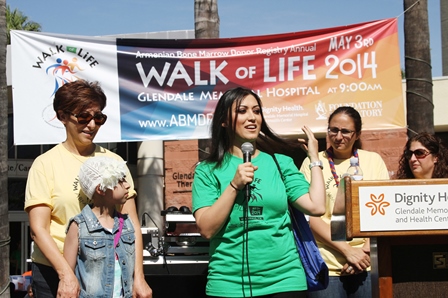 Arpine
May 4, 2014, the day of our walkathon, Arpine was emotional. She was celebrating a very special anniversary. Three years ago, on that day, she had donated her stem cells to save a 3-year old child. Read her story: On March 4, 2011, I received a call from
---
May 4, 2014, the day of our walkathon, Arpine was emotional. She was celebrating a very special anniversary. Three years ago, on that day, she had donated her stem cells to save a 3-year old child. Read her story:
On March 4, 2011, I received a call from City of Hope Hospital that changed my life forever. I was informed that I was a potential match for a three-year-old baby girl who was suffering from leukemia.
My first questions were: what is my next step? What do I need to do? Thanks to the coordinators at City of Hope Hospital, all of my questions were answered, and I was given an appointment to give blood samples for further testing on March 8, 2011. I was told that it would take anywhere from 4 to 6 weeks for my blood results to arrive. I knew that the next month would be the longest four weeks for me. Ever since then, every single day, I thought of this young child, prayed, and hoped that a little part of me would help cure her tiny body.
Then, on April 8, 2011, I was contacted again from City of Hope Hospital with the great news that I was a perfect match for this child. I was excited and nervous at the same time. I was immediately asked to schedule a physical examination for April 15, 2011. I went to the appointment with my mother. From the moment I stepped into the hospital, I was taken care of with the utmost attention and support. After going through all the necessary physical exam, I had the opportunity to speak to the nurse practitioner and the doctor who was actually going to be doing the marrow harvesting. I was given two choices: to donate through the peripheral blood stem cells (PBSC) or bone marrow. I asked which method would most benefit the patient. The doctor and nurses agreed that the patient would likely be cured and survive through the bone marrow donation, a surgical process through which marrow would be withdrawn from the back of my pelvic bone (the bone would be completely replenished with marrow within four to six weeks).
Without hesitation, I committed to saving this child's life and signed the necessary documents to undergo the surgery as soon as possible. I donated a part of my bone marrow on May 4, 2011. I was given the chance to save a life, and I am proud and honored to have made a difference.
Ever since, I have encouraged everybody to register to become a donor. It is amazing how a small part of you can make such a difference. There is no need to be afraid: utmost care is taken to safeguard the donor's health throughout the process. If you, your child, or someone you love needed a donor as urgently as the patient I helped, wouldn't you want everybody to register to become a donor?